---
FOR SALE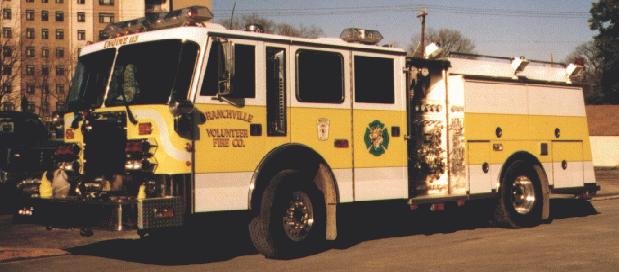 1994 Simon-Duplex Saulsbury 1500 gpm Pumper
Excellent Condition
10 Person Air Conditioned Cab
Alpine AM/FM Cassette Stereo System (Front and Back)
Dave Clark Communications System w/3 Headsets
Powercall Electronic Siren and Dual Airhorns
8V92TA Detroit Diesel Engine w/Turbo
Allison HD740 Automatic Transmission
500 Gallon Booster Tank
All Lettering and Insignia Removed! Ready to Paint!
1500 gpm Hale 2-Stage Pump
Hose (but not the nozzels) and Ladders Included are:

150 Foot Bumper Line
2 Crosslays and 3 Rear Attack Lines
24 Foot, 12 Foot, and Attic Ladders

6kV Onan Generator
6 Quartz Scene Lights
Jake Brake
Low Milage
We reserve the right to refuse all bids.
---
Back to HOME
This page © Copyright 2003, Thomas L. Tanner, Jr. unless otherwise noted.